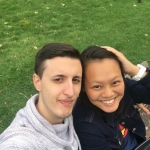 Surprises sent:
2
Surprises received:
0
Surprises in progress:
0
Country:
Singapore
Languages:
English
Member since:
07 October 2018
Last activity:
07 October 2018
Hello! I am Naomi from Singapore and I travel often. I recently got married in April this year and I am usually traveling around the world during my free time. You see, my occupation does not really allow me to travel much as I am a nurse but at the same time, it allows me to travel to different countries because I get to transport my patients to their own countries. Irony isn't it.

Nursing is a love and hate relationship. Somedays I just love my job. Somedays I just hate it to the core. But mostly, I love what I am doing for the people and I enjoy helping my patients. This is something new that I am trying out and I hope the surprises make my dull day go away.

Things that I would actually appreciate from different countries:
tea bags
chocolates
biscuits
cute postcards
cat stickers
minion stickers
cute pens
small letter papers with envelopes
xbox CD games? if you don't want-for my husband mainly

or whatever you feel like sending to me.

Please don't send me nudes or my husband will kill me. haha....