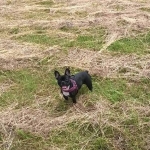 Surprises sent:
1
Surprises received:
1
Surprises in progress:
0
Country:
Italy
Languages:
italian, english
Member since:
06 December 2017
Last activity:
21 February 2018
Hello everybody!!
My name is Michela, I live in La Spezia, a small city in the north Italy.
I love animals, dogs specially! I have a french bulldog. I like travelling, Paris is in my heart!!!
I'm a postcrossing member too.
I collect postcards, magnets (my fridge is almost full!!), city and dogs prints.....but I love all is beautiful....so no problem!!
I hope to try new friends and happy surprise!!!