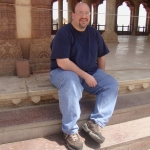 Surprises sent:
2
Surprises received:
2
Surprises in progress:
0
Country:
United States of America
Languages:
English
Member since:
18 July 2019
Last activity:
17 September 2019
I love the surprise of getting mail with interesting stamps on it.

If you don't have any ideas, you could just fold up a couple of pages from a local publication in your native language (newspapers, magazines, etc.). Alternately, any random ephemera like train ticket stubs, menus, or other printed matter that can show some local color, stuff you were likely to just throw away.



In case you wanted other ideas, these are my Interests:

Worldwide Stamp Collecting. I love learning about world history and one of the best ways I've found to learn a countries history is through their postage stamps. I like stamps! Especially ones from the last year or two.

Art (drawing, painting, poetry, pottery).

Zines and Zine making. I have had a lot of desire to be more creative and have found joy in creating zines for my own use and enjoyment.

Sound Engineering: DAWs, Mixers, Effects, Plugins, Etc. I am a complete novice but learning. I started getting interested because some of my family are musicians. My family and I sing a lot of karaoke for fun too.

Video production: Storyboards, shot design, cinematography, design tips, etc. Also a novice in this area.

Graphic design. Photoshop, Illustrator, etc. but I switched to Gimp and Inkscape since Adobe only allows a subscription model now.

Various technical subjects: Examples, Linux. I love Ubuntu Studio and Parrot. HAM Radio, various programming languages, Arduino, and electronics in general. Machine Learning and Artificial Intelligence.

Worldwide travel.

Hunting, fishing, and camping.

Designing and playing Role-playing games like D20 Modern, D20 Future, and version 3.5 Dungeons and Dragons.