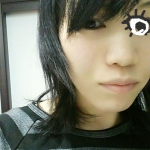 Surprises sent:
7
Surprises received:
4
Surprises in progress:
0
Country:
Japan
Languages:
Japanese, easy English
Member since:
01 February 2016
Last activity:
22 July 2017
Hello!
I'm 20's woman from Japan.
Eating and sleeping are so fun! XD
I can't wait to be surprised from you!
What would you send me? If you have no idea...

Mint stamp, used stamp, postcard, CTO, FDC,
teabag,sticker, cute illustration design, candy,
cheap accessory, paper bag,
coffee stick, funny picture, pencil,
easy English poem, positive words,
handwriting letter, used ticket, article of fashion/singer/cosmetic/royal family
photograph, bookmark, charm, fridge magnet, badge,
purple, violet, emerald green, silver, blue, black...