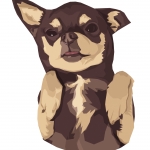 Surprises sent:
2
Surprises received:
1
Surprises in progress:
0
Country:
Finland
Languages:
Finnish, Swedish, English
Member since:
28 November 2018
Last activity:
21 January 2019
Hi! Glad I found this place; receiving snail mail is one of the way too rare pleasures nowadays. I'm excited to exchange all sorts of small mementos with you people.

I'm 38 and live in Tampere — one of the larger cities in Finland. I have a small dog named Muru, who's the sweet natured chihuahua ever blessed this earth. She's the joy of my everyday life.

I'm quite big of a reader, currently reading mostly sci-fi (all sorts) and memoirs, but I enjoy other genres too. I enjoy writing fiction and scribbling in my many notebooks.

Other hobbies include geocaching, postcrossing, following various TV-series (my all time favourites are Buffy and Battlestar Galactica), gaming (Dota 2, Minecraft and others).

Style wise I like retro and old things & geeky and "clever" stuff. I'm especially fascinated with old photographs and small bits of history.