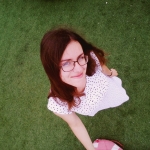 Surprises sent:
1
Surprises received:
0
Surprises in progress:
0
Country:
Russia
Languages:
English, Русский
Member since:
01 June 2018
Last activity:
16 June 2018
Hello! I'm Anna. I'm 24 years old.

I found this site by an accident. It's already such a lovely surprise for me and can't wait to see more surprises.

I used to be a postcrosser but now I just exchange letters with my friends. And hope I'll meet new ones here :)

I like nature and everything connected with it. So the ideal way to take a rest for me is walking in a park, reading a book there or having a picnic.

I'm not a bookworm but if I like a book, I can't stop reading the one.

Asian culture seems very interesting to me. It's like a special world for me. I love the way as Japanese language sounds and am crazy about Korean cuisine. Actualy, I like all spicy food so I dream to taste Mexican and Chinese ones too.

I think each place, person and story is special.