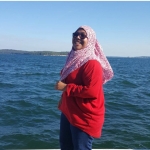 Surprises sent:
1
Surprises received:
0
Surprises in progress:
0
Country:
Malaysia
Languages:
English, Malay, Indonesian, Korean
Member since:
10 November 2019
Last activity:
12 November 2019
Hi! My name is Muniratul. I'm from an island in Malaysia called Penang. I lived in Sydney for five years when I was doing my degree a few years back. One of my life goals is to travel around the globe. I love to travel. Seeing new places, enjoying their local culture, the foods. It's just heaven! I enjoyed reading. I read all sorts of books; from manga to novels. I love to cook as well. Cooking for my family, trying out new recipes. I even like to dine out. I'm new here, so I'm super excited!