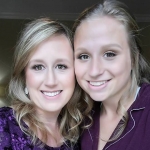 Surprises sent:
1
Surprises received:
1
Surprises in progress:
1
Country:
United States of America
Languages:
English
Member since:
14 December 2019
Last activity:
26 January 2020
My name is Mindy. I love to send and receive happy mail. I enjoy making and sending ATC's, pocket letters, flip books and paper crafts. I also enjoy decorating the envelopes I send out. Pic is of me and my youngest daughter.