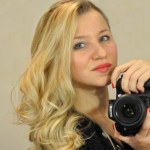 Surprises sent:
1
Surprises received:
1
Surprises in progress:
0
Country:
Italy
Languages:
Italian, English, Russian, Turkish
Member since:
22 February 2020
Last activity:
24 March 2020
Hello!
My name is Halina. I'm from Belarus but I've been living in Italy for 10 years.
I'm 30 years old and I have a 1-year old daughter :)

I've been a postcrosser for 2 years and now I'm curious to try out this new site!
I will be glad to receive any surprise from you, but here are some ideas :
postcards (blank, I prefer not touristic, I love illustrated ones),
stamps (new or used), stickers, washi tapes, book marks, tea/infusion packets.
I'm a huge fan of Harry Potter books, if you have anything connected to it, I would be delighted!
I also collected magnets and I love cross-stitching.
It would be great, if you put beautiful stamps on your envelope.
Please write a little bit about yourself!
Thank you for your surprise and have a great day!