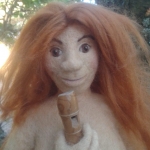 Surprises sent:
2
Surprises received:
3
Surprises in progress:
0
Country:
Aland Islands
Languages:
English, Swedish
Member since:
25 July 2018
Last activity:
27 September 2018
This is Karin's second account, that I created on a journey to Åland Islands because I often send my letters and cards via Åland, and because I've sent so many letters from my first account and too often is told that there aren't any addresses available for me. I hope you don't mind writing to me twice!
I still like letters more than little things, and I always enjoy a bag of Tea!