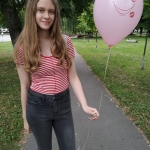 Surprises sent:
2
Surprises received:
2
Surprises in progress:
1
Country:
Belarus
Languages:
Russian, English, Ukranian
Member since:
01 December 2019
Last activity:
11 February 2020
Hello friends!
My name is Daniela, I'm 14 years old. I am from Belarus. I love traveling, cooking, diamond painting. Also, I really like to do beautiful things, crafts, scrapbooking. I have a dog Bonya breed Yorkshire Terrier. We love to play together! I participate in postcrossing.
I love:
-postcards,
-tickets for transport / cinema / museum / theater / or another ticket for something,
-beautiful writing paper,
-STICKERS!!!
-A tea bag,
- various scrapbooking elements,
- decorative tapes,
-beautiful cuttings from cardboard or something else.
I always try to please a person with investments in an envelope. If it's not difficult for you, write a little about yourself on a separate piece of paper and indicate the weather. Many thanks! I will wait for your surprise! All the best, Daniela.